Community facilitation and development
There are 20 communities from Botoșani, Brașov, Brăila, Buzău, and Iași counties that are part of the "We can do more together!". Community facilitators were also selected and trained regarding entering the community, and #together, we formed 20 initiative groups at the local level.
To popularize the project among citizens from the 20 localities that the intervention has taken place, county coordinators together with the facilitators and mobilizers undertook a series of field visits, context in which they have completed the process of identifying the individuals willing to directly and actively help within the project's activities. In every of the 20 localities, local action groups were formed (some of them being formally approved by the local councils).
Training courses for GIL members and dissemination activities to other community members
100 members of the local initiative groups and other Roma members of the communities will participate in 6 training courses.
To date, the first two courses of the project - Community Development and Communication, Fundraising and Advocacy, have been conducted as follows: Community development și Communication, fundraising și advocacy, as it follows:
4-6 June 2021 (Brașov)
11-13 June 2021 (Brăila)
18-20 June 2021 (Buzău)
25-27 June 2021 (Botoșani)
2-4 iulie 2021 (Iași)
Next step constituted the undergoing of courses that had the objective of increasing the level competence of 4 members from every initiative group. In every county there has been a process of reciprocal learning between the members of the staff and the attendees of the course. Owing to the permissive and safe context in which the course has taken place, we were happy to hear the inevitable stories told every evening by the people attending. Moreover, we were happy to encounter people that had a lot of stories to tell. How could a discussion sounds like at a table where sat members of the well-known "10 Prajini " marching band, book authors, people that have been working for dozen of years in roma communities and in other categories. Nonetheless, everyone was united by the same wish, to bring their input in setting the base in constructing a friendlier and more open collaboration.
As a part of the project, there will be organized another four set of training courses for the community:
writing and implementing projects
public policies for Roma and local representation
good practices for the promotion and development of Roma culture
Roma identity and ethnic self-image
Training courses for LPA representatives and other professionals working with Roma
During this period we have organized the second course directed towards the local authorities which addressed no less than 50 employees of the Town Halls from the 20 localities (people that undergo their daily activities with members of the roma community and members of the majority population).
The attendees will participate at the following courses:
Roma identity: Fundamental elements of Roma history and their influence on contemporary anti-Roma racism and on the development of a Roma culture of internalized stigma. Stereotypes and prejudices about Roma. Anti-Roma discourse. Roma identity. Rom vs. Gypsy
Good practices for the promotion of Roma culture: dissemination of methods and tools for the promotion and development of Roman culture
Local administration focused on the needs of the citizen, including policies
Public policies for Roma as an engine of local development: Public policies for Roma - Roma Inclusion Strategy; Affirmative measures for Roma; Funding for Roma communities; Inclusion fo the needs of Roma communities in local development strategies.
At the same time, local initiative groups worked towards the development of local action plans, which in the following weeks will be submitted to the Town Halls in order to be integerated in the local development strategies. Thus, through this project we aim towards putting at the same round table every stakeholders directly or indirectly implicated in the development of the desiteratum to improve living conditions and satisfying the needs of a number as large as possible of people.
Continuing education courses for teachers
Presentation of the courses' objectives
Intercultural education education for teachers in the 5 counties is one of the activities of the project "We can do more together" and aims to familiarize teachers with information and strategies in the field of intercultural education, thus increasing school participation of students and developing an optimal climate in schools with an impact on increasing school performance. The training program is also based on communication strategies and techniques adapted to real needs and involves a part of e-learning in an online platform.
The involvement of the target group consisted in conducting lessons given by students with students from the school of origin. Therefore, the principles of intercultural education: acceptance, knowledge of the elements of history and culture, diversity, etc. will be promoted among students leading to the development of non-cognitive skills.
The course is accredited by the Ministry of Education and offers a number of 10 transferable professional credit points.
The training program includes four categories of modules:
Diversity in the 21st century – It is a theoretical module, which familiarizes the participants of the training program with essential concepts for understanding, promoting intercultural education in order to develop relevant and meaningful skills for intercultural education;
Legislative approaches from the perspective of intercultural education - This is the module that includes information on legislative documents that support human / child rights;
Intercultural values and attitudes - A module that familiarizes participants with the meanings of the fundamental concepts of intercultural education and provides support for identifying methods and techniques for promoting these concepts in multiethnic, multicultural communities;
Intercultural education, from theory to school and social practice - It is a module that provides information and support for the use and implementation of school curricula in the spirit of diversity and equity;
Follow-up activities
After completing the course, the participating teachers will conduct two lessons in their school based on the support materials received during the course. The supporting materials are made by the "Împreună" Agency with UNICEF Romania and have as their central theme the promotion of education among the Roma by offering role models within the minority. At the end of the activities, we expect students to have integrated the principles of intercultural education, to have known specific elements of different national minorities, to have higher self-esteem and to know successful models from the roma community who have succeeded in life through education.
Conducting the course
Cursurile de Educație Interculturală a fost organizat în regim online pe platforma ZOOM, având loc sincron cu doua grupe paralele, sub forma blended learning (40 de ore). Cursul s-a desfășurat într-o atmosfera prietenoasă, în cadrul acestuia fiind prezentate informații teoretice si practice. De fiecare data, profesorii au avut ocazia să discute, să analizeze diverse situații sub forma unor jocuri, sa contribuie cu experiența proprie si să tragă concluzii valoroase. De asemenea, în cadrul cursurilor desfășurate pana acum, participanții au împărtășit experiențe, am aflat despre așteptările lor referitoare la curs. Printre temele abordate până acum se numără: școala incluzivă si multiculturală, discriminarea, istoria si statutul romilor, drepturile omului, educația incluzivă și de calitate.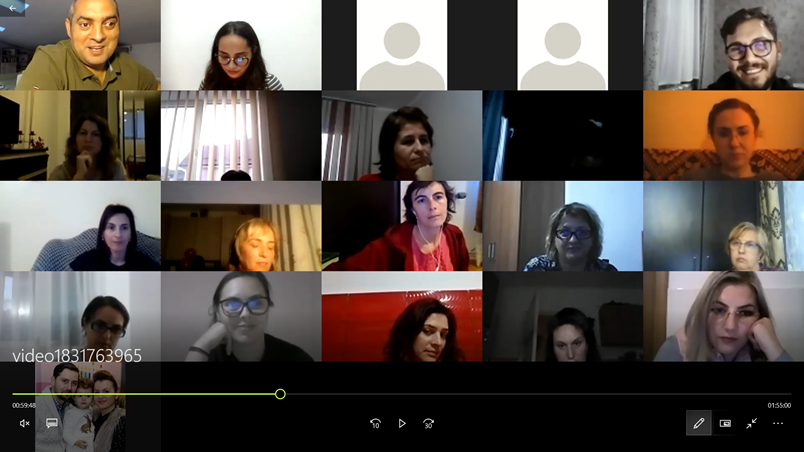 Cunoașterea şi înțelegerea elementelor de interculturalitate sunt fundamentale pentru cursanții. Multe dintre informațiile pe care formatorii le-au oferit cursanților au fost întâlnite pentru prima data.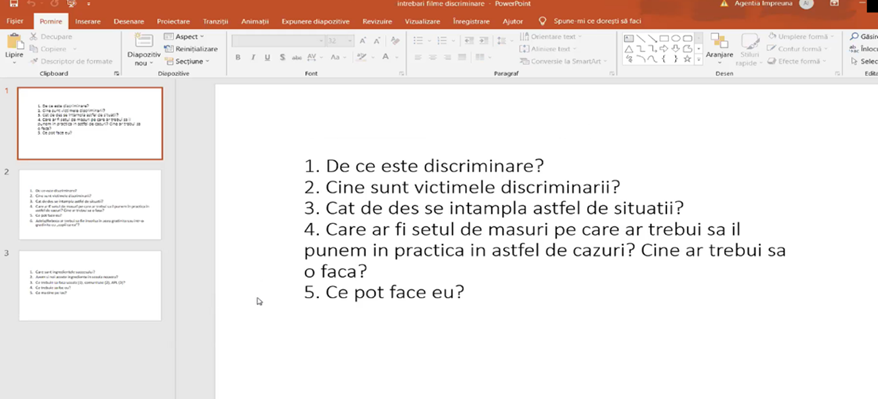 Nu în ultimul rând, feedback-ul reprezintă una dintre elementele imperative al acestui curs, nu doar cu scopul de a îmbunătății modul de livrare a informațiilor și experiența cursanților în mediul online cât și pentru a înțelege mai bine nevoile, interesele celor prezenți. Astfel, formatorii au utilizat aplicația Jamboard pentru a colecta informații precum curiozități, opinii și așteptări, la începutul sesiunii, precum și la final, despre opinia cadrelor didactice despre întregul curs. Așadar, cu ajutorul acestor opinii cât și al feedback-ului constant, cursul se centrează în mod direct astfel încât informațiile livrate să fie corelate cu nevoile sau problemele din teritoriu.
Expectations / curiosities and opinions from the participants at the beginning of the working session: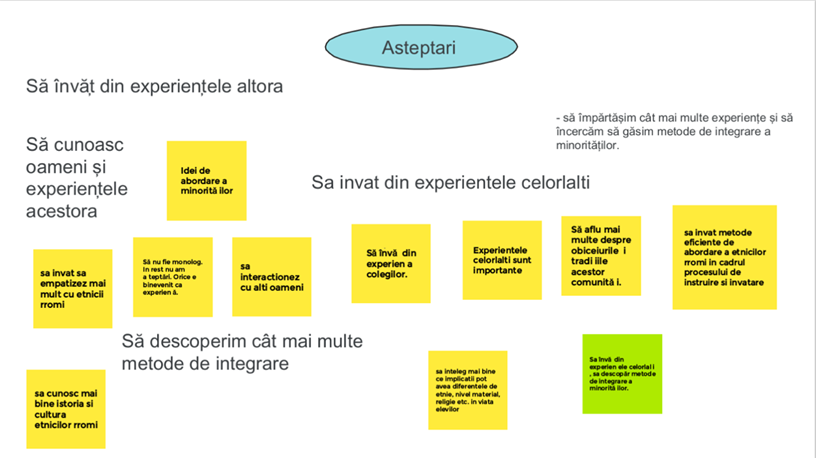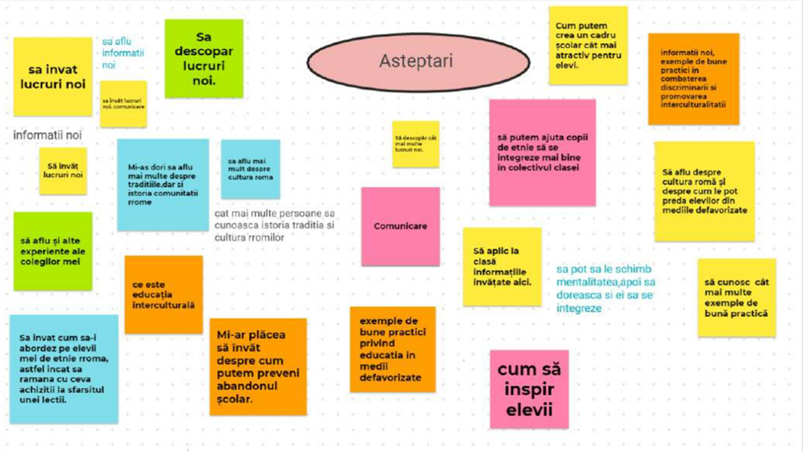 Feedback from participants at the end of the working session: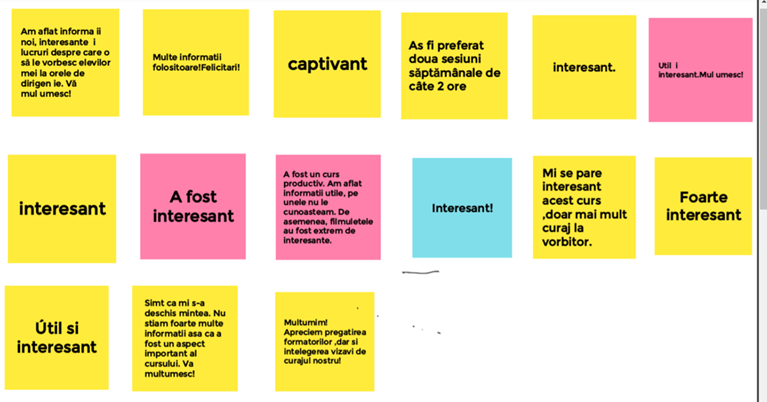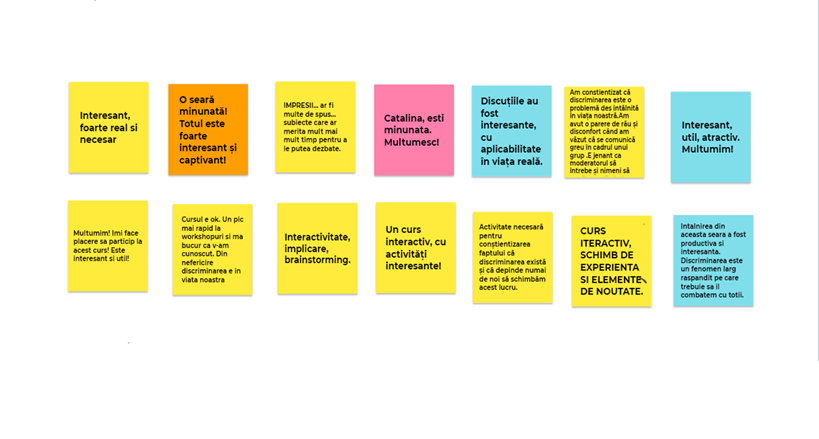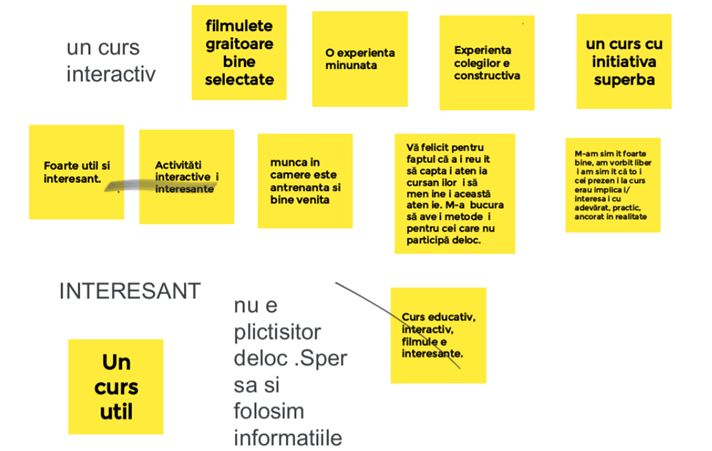 Activities to increase self-esteem for Roma students and parents
Within this activity, activities will be carried out that will contribute to the increase of the students' self-esteem. Thus, the expert for increasing self-esteem will make a set of activities and fact sheets to monitor the impact they have on students, which will be sent to teachers in schools selected in the project. The activities will be designed to put students in a position to talk openly about how to relate to colleagues, teachers, parents, friends, but also about how they see themselves. At the end of each activity, students will complete a form to assess the impact of the activity (the form made by the expert to increase self-esteem).
Parents will be part of the Parent Education Program that proposes positive ways for parents to interact, contexts for discovering and amplifying positive experiences with children, a framework for valuing and stimulating new attitudes and behaviors, as well as enriching the level of knowledge related to the child's growth, care and development.
Information activities at community level on the rights of the Roma national minority, the promotion of Roma culture and identity